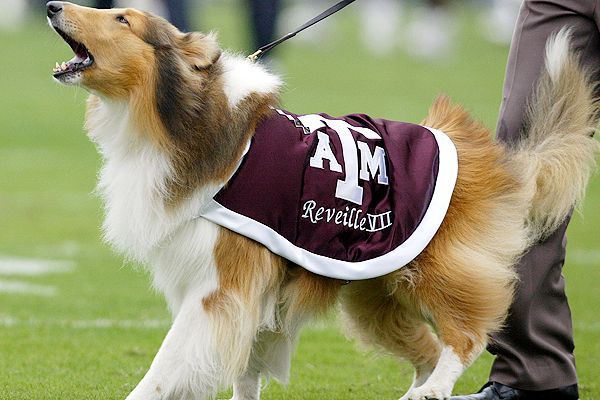 Get ready UGA there is a new dog in town

20 Facts SEC Fans Need to Know About Texas A&M

1. In the existing SEC States there are approximately 50,000,000 people in those states. Texas A&M adds 21,000,000 additional TV sets to the SEC.

2. Texas A&M finally gives Arkansas a legit conference rival. The Aggies and Hogs are two old Southwest Conference rivals that have met 67 times with Arkansas leading the series 40-24-3.

3. LSU and A&M also have a strong past. Last year's Cotton Bowl was the 50th time the 2 school met. LSU holds an advantage of 27-20-3 over A&M.

4. A&M has a record of 58-79-6 against SEC teams. They've played 10 of 12 school with Vandy and South Carolina never being an opponent of A&M.

5. Tennessee fans don't need to worry about Aggie fans calling Texas UT, instead of Tennessee. Aggie fans refer to Texas as TU.

6. Several Texas A&M head coaches have also been in the SEC as head coaches. Bear Bryant(UK and Bama), Jackie Sherrill(MSU), Dennis Franchione(Alabama), Emory Bellard(MSU), and Gene Stallings(Alabama) have all coached for A&M.

7. If another team from the West, like Missouri, is added then expect the SEC to move Alabama and Auburn to the East and Vandy to the West. This saves the Auburn-Georgia rivalry and the Tennessee-Alabama rivalry.

8. Distance from College Station to
Baton Rouge, LA 362 miles
Fayetteville, AR 518 miles
Starkeville, MS 608 miles
Oxford, MS 652 miles
Tuscaloosa, AL 664 miles
Auburn, AL 780 miles
Athens, GA 933 miles
Gainesville, FL 953 miles
Knoxville, TN 975 miles
Lexington, KY 992 miles
Columbia, SC 1075 miles

9. UGA, Bully, and Smokey need to know that Texas A&M also has a dog mascot. Reveille is a collie, even though the first two Reveille's were not pure bred collies.

10. Texas A&M does not have cheerleaders, they have yell leaders.

11. Since the school opened in 1876 A&M has awarded 365,000 degrees

12. In the 1930s Texas A&M started the hand sign tradition that many Texas schools would later adopt. Get used to seeing the Gig'em hand sign which looks similar to someone giving you a thumbs up gesture.

13. At midnight prior to each home game the Aggie fans and students participate in "Yell Practice"

14. Texas A&M's Corps of Cadets is one of only 3 schools that offers programs that lead to commissions in all the United States Military Branches.

15. The Fightin' Texas Aggie Band is one of the most unique in the FBS. The band is not typical of SEC Marching Bands as it is a military band. In fact, A&M's band is the largest military band in the world.

16. "When the team scores, everybody scores" A&M fans kiss their date after each score.

17. Kyle Field is the "Home of the 12th Man". The Aggie Crowd will have no problems fitting into the SEC. A&M fans are loyal and will create as much, if not more noise than any stadium in the SEC. Most in the media that have visited Kyle Field will tell you that at times the press box will start to shake.

18. The #12 jersey is given to a hardworking walk on player signifying the 12th man. At one time coach Jackie Sherrill fielded a 12 team special teams unit of walk ons.

19. The War Hymn was named the #1 College Fight Song by USA Today. When Aggie fans start singing the "Saw Varsity's Horns off" portion of the song, things get wild in the stands.
20. A&M is a fantastic addition to the SEC. The culture at College Station, TX is a perfect fit for the SEC. This school brings some of the best fans in the country, top notch facilities, good athletic tradition, and a strong military background to the SEC. This is a home run for the SEC and I can't wait to start taking trips to College Station on a regular basis.
Matt Barber
Dixiefriedsports@gmail.com
http://twitter.com/#!/dixiefriedsport