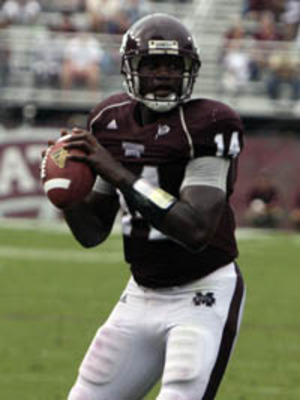 Look for MSU QB Chris Relf to have a huge 2011
30 Questions for the SEC in 2011
1. What SEC player has the most pressure in 2011?
A. Stephen Garcia QB South Carolina- Being a starting QB under Steve Spurrier is always intense, but after 5 suspensions in his 5 year career, Garcia is under a microscope both on and off the field.  Garcia has had a good career at USC and is likely to end his career as the winningest QB in school history, but the off the field issues have hurt him.  This will be the most hyped Gamecock team since 1988 and this team's success will likely determine Garcia's legacy.
2. What coach has the most pressure in 2011?
A. Mark Richt Georgia- Last year Georgia had their first losing season since 1996 and now the heat is on Richt. There is little doubt that the Georgia program has progressed further under Richt than it did under Donnan and Goff, but the past 2 seasons have below Georgia standards. While Richt does have 2 SEC Championships, he has yet to take the Dogs to a National Championship and struggles to beat rival Florida.
3. Who is the SEC's most underrated player?
A. Warren Norman Vanderbilt-  For the past 2 seasons Vanderbilt's football teams have only averaged 16 points per game, so you wouldn't expect to find an exciting player like Norman on offense.  As a freshman Norman broke Herschel Walker's all purpose record in the SEC with 1,941 yards and had 3 special teams touchdowns.  Last year he still led Vandy in rushing despite missing the final 3 games due to injury.  Under James Franklin's more wide open offense expect big numbers from Norman in 2011.
4. What is the toughest division in college football?
A. The SEC West and it isn't even close- Last year Mississippi State crushed Michigan in a New Year's Day Bowl game 52-14 and the Bulldogs were the 5th best team in the West last year!  5 West Division teams ended the year in the top 25 last season and 4 of them were in the top 15.  This year LSU, Alabama, and Arkansas are all National Championship contenders while MSU and Auburn are NYD Bowl type teams.  Ole Miss should be improved and this should give the West a good chance at having every team bowl elgible in 2011.
5. Who will be the first player drafted from the SEC in 2011?
A. Dre Kirkpatrick CB Alabama-  Now more than ever the NFL has become a passing league and lockdown corners like Kirkpatrick are needed.  Kirkpatrick has the size and speed to stay with any WR in the country
6. What is the best out of conference game for the SEC in 2011?
A. LSU vs Oregon- For the second straight game Oregon gets a shot at one of the SEC's top teams.  This game is being played in Arlington, TX at Jerry Jones' Stadium. It will be a fantastic match of West Coast offensive speed vs the Deep South's defensive speed. 
7. What is the worst out of conference game for the SEC in 2011?
A. Missouri State at Arkansas-  These 2 schools aren't far apart from each other and typically the Bears give the Hogs some decent games in basketball and baseball, but in football this could get very ugly.  Missouri State doesn't have anyone on the field that could cover the Hogs 4 outstanding WRs, so early on this will be ugly.  In the end the Hogs will pound their physical backs to whip up on this FCS school from Springfield, MO.
8. Who has the easiest schedule in 2011?
A. Kentucky- Once again the Cats have failed to produce a decent opponent out of conference.  Louisville is the toughest OOC game for Kentucky, but at best the Cardinals are a mid level Big East team.  Kentucky's other OOC games are against Western Kentucky, Central Michigan, and Jacksonville State.  From the West the Cats play MSU and Ole Miss, but do have a tough road game against LSU.  It appears as if UK's yearly plan is to schedule 4 easy OOC games each year, beat Vandy, and win 1 more they shouldn't to get bowl elgible.  When the Indiana rivalry was dropped a few years back few noticed, but Kentucky can do a much better job scheduling than they have recently. 
9. Who has the toughest schedule in 2011?
A. LSU- Give it up for the Tigers for showing some guts.  This is a national championship contender that is playing in CFB's toughest division and still they go out and schedule Oregon.  The Tigers also are playing in one of the toughest stadiums in the country when they visit Morgantown, WV.   A Thursday Night road game at MSU will be tough as will a road game in Tuscaloosa.   Then to end the season they play an Arkansas team that has defeated LSU 3 of the last 4 years. 
10. What will be the first big upset in 2011?
A. Arkansas will win at Bryant Denny and beat #1 Alabama- By week 4 Alabama will have moved its way to the top of the AP and Coaches Polls.   Arkansas will be a top 15 team, but Alabama will still be a touchdown favorite.  The Hogs will have had 3 weeks to prepare Tyler Wilson for his role as starter and the favorable OOC schedule will pay off.  Wilson and the Hogs will gain the early lead and unlike last year, the running game will show up and keep the Hogs in the lead for good.
11. What freshman will make the biggest impact in 2011?
A. Issiah Crowell RB Georgia- With Washaun Ealey gone, the running back position is ready for the true freshman to take over.  Expect Crowell to approach the 1,000 yard mark this year and give the Dogs the boost Lattimore gave South Carolina last year.
12. What's the biggest named coach that will leave the SEC in 2011?
A. Gus Malzahn OC Auburn- In 2006 Malzahn was named Rival's Offensive Coordinator of the Year while helping Arkansas win the SEC West.  When Gus was at Tulsa he became the first OC to coach a 1,000 yard rusher, 5,000 yard passer, and 3 1,000 yard WRs at the same time.   Then in his 2nd season at Auburn he coached a Heisman winner and won the national championship.  He's proven and he is the hottest coordinator in the country. 
13. Was Will Muschamp a good hire for Florida?
A. Yes, but he won't accomplish what Urban Meyer did-  Florida took the future coach away of Texas away from the Longhorns, that's a big deal.  They also took a guy that in 2008 nearly landed the Arkansas job.   Muschamp knows the South and has coached good defenses everywhere he has gone.  He will win big at Florida, but he will not have the success Urban Meyer did in his six seasons at Florida.  He's certainly better than Zook, but you aren't looking at the next Spurrier or Meyer.
14. Why will South Carolina fans be nervous after their trip to Athens?
A. Navy is on the schedule-  In 1984 South Carolina was 9-0 and ranked #2 in the country after beating Florida State.  The Gamecocks were actually invited to The Sugar Bowl prior to a trip to Annapolis to play The Midshipmen.   Joe Morrison's team turned down the invite because they knew that a win over Navy would put them in the Orange Bowl.   What Morrison's team didn't know though was that Navy would whip the Gamecocks on a cold night in Maryland and send USC to The Gator Bowl.  The loss is the most painful for Gamecock Fans.   This year's team won't be #2 entering the Navy game, but a win over Georgia and they likely will be in the top 10.
15. Will Mark Richt be back at Georgia in 2012?
A. Yes- Richt will save his job with an improved 2011.  His Dogs won't win a championship this year, but they will be in a New Year's Day Bowl.  With talented players like Murray and Crowell back in 2012 the Dogs could make a run at the SEC Championship. 
16. What player will improve the most in 2011?
A. Chris Relf QB Mississippi State- When I first saw Relf at QB for Mullen in 2009 I just thought this was a big kid who could bruise his way through the line for some short yardage runs.  Last year when I saw Relf I saw a kid that became a much better passer and was a real danger with his feet.  All of Relf's top offensive weapons return in 2011 and I think he's ready for a huge season.
17. Why would I be worried if I were a QB in Oxford?
A. Because Houston Nutt might bring in a transfer to replace you-  The QB Killer has done it again.  For the second straight year Nutt will have a transfer as his QB.  Bary Brunetti comes in as a transfer from West Virginia and Nathan Stanley is now out.  Brunetti was a highly recruited duel threat QB and I think he'll have a better career in Oxford than Masoli, but if the Rebs are going to win this year it will have to be with the running game.
18. What SEC team will see the biggest drop off in 2011?
A. Auburn-  It's going to be hard to top last year's 14-0 season.  Gone are Cam Newton and Nick Fairley.  The Tigers have some serious issues at QB.  Michael Dyer and Ontario McCalebb are a dangerous backfield, but with 6 returning starters the Tigers will be looking at a 7-8 win season. 
19. Has the city of Nashville been moved to Kentucky?
A. No, but it will play host to 2 Kentucky teams playing each other-  Kentucky has an odd out of conference game with Western Kentucky in Nashville, TN. In the past Cat fans have proven they will show up in huge numbers to bowl games in Nashville, but this certainly is an odd move.  Will we see LSU schedule Louisiana Tech in Houston next year?
20. What Stadium Atmosphere has improved over the last couple years?
A. Williams Brice Stadium- When the Gamecocks entered the SEC the atmosphere at W-B was subpar for many years.  It used to be that Gamecock fans went crazy for the "2001" entrance, got loud on 3rd down, and then left when the team was down by 2 scores.  Now Gamecock fans have taken it to a new level.  When Sandstorm is played and those white towels are waived there isn't a crazier scene east Baton Rouge.  Expect more from the W-B Stadium atmosphere as plans are on the way to increase the marching band size, something the Gamecocks have needed for many years.
21. Why isn't the media attacking Bobby Petrino anymore?
A. Because he's shown a commitment to staying in Fayetteville-  After he left the Falcons almost every media member in the country jumped the guy for leaving before the season ended.  Petrino has now signed a huge contract with the Hogs with an $18 million buyout.  Those who said he would leave Arkansas after 2 years look like idiots now.  I'll be happy to say I wasn't one of those as I said from the start that a guy from Montana would be far more comfortable in Fayetteville than Atlanta. 
22. What relationship with the SEC needs to end? 
A.  The Relationship with the BBVA Bowl in Birmingham-  The SEC did the right thing by dropping Shreveport and adding The Gator Bowl.  Now they need to drop the BBVA Bowl.  This bowl game offers poor weather, an old stadium in the ghetto, a mid tier Big East team as the opponent, and a city that isn't exactly a tourist destination.  
23. What relationship should the SEC try and get?
A. A relationship with the Alamo Bowl- This would be a great destination for a SEC team.  The players and fans would get to visit a fun city with good weather, a nice stadium, and it would give the SEC into the fertile recruiting grounds of Texas.  Plus, the Alamo Bowl would offer the oppurtunity to pair a SEC team against a PAC 10 or Big XII school.
24. Are thoughts of SEC Expansion over?
A. Yes, at least for the next several years-  Last year this was the hot topic in the SEC, but now this is a dead issue.  The Bix XII landed a big TV contract to secure A&M and Missouri from leaving anytime soon, so the SEC isn't expanding West.  In the East  USC, Florida, and UGA aren't going to allow in their instate rivals.   It looks like the conference is going to stay with 12 teams for a long time and in my opinion that's a good thing.
25. What voice will we miss in 2011?
A. Mississippi State play by play man Jack Cristil-  After 58 years and 636 games Jack Cristil announced his retirement as voice of the Bulldogs.  Cristil was a Ronald Reagan Lifetime Achievement Award Winner and was named Mississippi Sports Broadcaster of the Year 21 times.   
26. What SEC Player hurt his team the most in the offseason?
A. Florida CB Janoris Jenkins- Following his 2nd arrest in 3 months, Will Muschamp decided enough was enough and kicked the All SEC corner off the team.  Jenkins will be transferring to Division II North Alabama to join Terry Bowden's team.
27. Why should Vanderbilt Fans be optimistic about the future?
A. Tony Franklin is doing a great job recruiting- One of the most impressive things this spring and early summer has been the fantastic job Vanderbilt has done recruiting.  Just recently the Commodores landed all purpose running back Brian Kimbrow of Memphis.  Kimbrow chose Vanderbilt over schools like Nebraska, Tennessee, Arkansas, Miami, Notre Dame, and multiple others.  Year 1 will likely be a difficult transition, but if Franklin can coach like he can recruit then the SEC needs to look out for Vandy.
28. Who will win the SEC East?
A. South Carolina- The Gamecocks will go undefeated in the SEC East, but drop road games to Mississippi State and Arkansas in the SEC West.   The Gamecocks will end the year with their highest year end regular season ranking since 1987.  A 10-2 overall finish will have fans in Columbia believing this is finally the year.
29. Who will win the SEC West?
A. Alabama-  Despite an early season loss to Arkansas, The Tide will win out and finish the year 7-1 and 11-1 in the SEC.  After beating Alabama, the Hogs will lose a tough out of conference contest to Texas A&M in Dallas.  The Hogs will enter the Golden Boot game against a 10-1 LSU team.  LSU will come out on top and finish the year 7-1 in the SEC, but a loss to Alabama a few weeks earlier will put the Tide in the SEC Championship game.
30. Who Wins the SEC?
A. Alabama-  South Carolina will play much better in this year's SEC Championship game, but Bama's defense will slow down Lattimore.  The game will be tight going into the 4th quarter, but Alabama will pull it out in the end and come away with their 3rd SEC Championship in the last 4 years. 
Matt Barber
dixiefriedsports@gmail.com
http://twitter.com/#!/dixiefriedsport