An Aggies Guide to Their New SEC Rivals

Howdy Aggies. Now that it is official that Texas A&M is a member of the SEC it is time to teach our Texas friends a few things they must know about the SEC so they are prepared when they take their first trip to a SEC town. Each SEC school has its unique traits and this guide will help you know what other SEC fans think of their rival schools.  Yes, you can still make fun of the tea sippers at Texas and sing about sawing Varsity's Horns off, but now it's time to learn a little more about the Coots, Corndogs, Arky, Barners, and others in your new home. 
Alabama fans have an obsession with your old coach
Alabama- Did you know that the Alabama Crimson Tide have won 13 National Championships? If not they will be certain to tell you so. You can't walk 1 block in Tuscaloosa without seeing a fan with a shirt that claims 13 National Championships. Alabama fans are also obsessed with your old coach Beary Bryant. Men dress like him, and women want to be him. There is also an odd tradition in Tuscaloosa called "Bama Bangs". If you are under the age of 30 it is Alabama state law that you grow Bama bangs, if you don't then you are forced to attend Troy or UAB.
Meet the world famous Bubb Hog
Arkansas- Hog fans are great folks, that is unless you are a hated coach or a hated media member. Once you get on a Hog fans bad side look out. They will find out everything about you and post it on Hogville so everyone in The Natural State will know how to contact you. What is Hogville? Well, in order to get a birth certificate in The State of Arkansas you are required to get a user name on the message board Hogville.net. The username has to be creative though and you have to be named after a pig, Hog, wild boar, or lunch meat involving pork. If you are ever on Dickson Street and in need of conversation ask the following questions. 1) Why don't you guys play Arkansas State? 2) Would you guys rather be in the Big XII? 3) Why do you have 2 stadiums? 4) Give me your opinion of Houston Nutt.
The only place it is ok to toilet paper your own home
Auburn- Auburn has an identity crisis. Some call them Tigers, others Plainsmen, and then they yell War Eagle at each other. Once you step inside of Jordan-Hare Stadium you will realize that people that attend Auburn have pom poms attached to their hands during a medical procedure prior to freshman orientation. Barners is the name that you can call Tiger fans to win their approval. If you want to become friends with a Tiger fan then tell them you hate Alabama, you will likely get a beer coming your way at that point. I think all the cars in the Auburn-Opelika area come sold with Tiger tails attached to them, but I'm not sure about this. If you want a great souvenir to take home with you to College Station then visit Toomer's Corner to buy overpriced toilet paper
Gator fans love their jorts
Florida- You'll never feel like an outsider in The State of Florida, that's because everyone is an outsider in The State of Florida. My wife lived in a small town called Alva Florida, but her family is from Ohio. That's basically your typical Gator fan. Those with deep family roots established in Florida love to wear jorts. Talking to a Gator fan will make you think it's 1999, Stone Cold Steve Austin is still cool, and so are jorts. Florida is great at everything so you'll never win any sort of bragging contest with them, so don't try. Just go to The Swamp, watch the Gator killing its victim entrance video, and then walk out with your head in shame because you just lost by 6 touchdowns.  Just don't stare at the fans swaying when they sing "We are the boys of Old Florida", if you do then you will have a seizure. 
The resting home to all the UGAs
Georgia- Athens is a great college town filled with some of the best live music in The South. It is also filled with thousands of people who think they are Dogs. On gameday expect to be barked at like you were a cat sitting on a window ledge. Georgia fans think every running back is going to be the next Herschel Walker. They also believe that red pants with white shirts is a stylish trend. Georgia also loves its mascot more than any group of fans in the country. Taking a trip to the graves of the UGA's is similar to a Muslim traveling to Mecca.
What can go wrong at Kentucky typically does
Kentucky- Lexington is a great place to visit during football season. Commonwealth is a great stadium, the horse races at Keenland are fun, and 90% of the time you are going to walk away with a win. Football is just something that gets in the way of fall basketball practice in Lexington and creates traffic for those trying to get to the horse races. Still, despite the fact that Kentucky doesn't care about football they still find a way to get 70,000 people in the stands for each game to watch the Wildcats find a new way to lose a football game. If you are driving to Lexington on I-75 please make sure to visit the Original Kentucky Fried Chicken that is located about an hour south of Lexington.
Would a LSU fan actually eat one of his own?
LSU- Outside the stadium the atmosphere is fantastic. Fans will yell "Tiger Bait" at you, but you have to play this correct. If you act like you enjoy being called Tiger Bait then they will feed you Cajun food, but if you get angry with being called Tiger Bait then the fans will attack you and feed you to Mike. LSU fans all are great cooks and I believe this is because they all smell like Corndogs. The great food they cook will keep your mind off wanting to dip one of those LSU fans in mustard and eat them. Inside Tiger Stadium you are going to experience Mardis Gras in a Stadium. Fans will taunt you, throw stuff at you, and they will even park Mike in front of your section just to keep you in your place.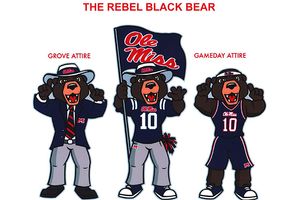 Yes, they actually chose this as their mascot
Ole Miss- Ole Miss actually was a football powerhouse 40 years ago, but since then fans have forgotten they have a football team. Now Ole Miss has become the biggest party scene in The State of Mississippi. Inside of the 10 acre tailgate lot known as The Grove fans will wear their dresses, ties, and dress pants while sipping on wine. Ole Miss fans think they are Princeton even though they really are closer to Mississippi Gulf Coast College, but SEC fans let them have their fun because they know a trip to Oxford means a win for the opposing team. The nickname is the Rebels, which I think is some sort of rare Black Bear that wears funny hats and tailgates in The Grove
MSU fans love their cowbells
Mississippi State- State fans have an odd obsession with cowbells. Nearly 80 years ago some cow walked onto the field at halftime of a game and since then MSU fans have used the cowbell as a good luck charm. Fans decorate these things and really get creative with them, some get passed down from generation to generation. In every other stadium in the SEC noise makers are illegal, but since Mississippi State has an all time record of 502-540-39 other SEC fans let them have their fun. Starkville does have a bad reputation for having nothing to do in the town for visiting fans. Personally, I got there to watch Football for 3 hours and stuff my face with BBQ from The Lil Dooie for the other 45 hours that I'm in town.
Don't worry, at least these girls are all around you at USC
South Carolina- Gamecock fans are the most optimistic bunch in America. Prior to each season they will tell you how this is going to be their year, but then when the 5th loss occurs you will always hear "There's always next year". Williams Brice Stadium is located about 2 miles off campus and looks like a spaceship from a distance. The area around it isn't pretty, so the city requires 100,000 hot women to dress in tight black dresses each game to distract you from the dump you are tailgating in. South Carolina has never been good at any sport that generates money, so they have poured millions into baseball. They figure if they can't be great at a sport that everyone in America loves, they will be great in a sport that few care about. W-B Stadium has an amazing atmosphere to it, that is until the Gamecocks fall behind 2 scores and everyone leaves early so they can get to 5 Points to witness the next player arrest.
Better lose some inches before going to Knoxville
Tennessee- Rocky Top is not the fight song. It is a somewhat popular song from the late 60s that Tennessee adopted a few years later so everyone could yell one line of the song. Fortunately for those visiting Tennessee these fans only know 10% of the song, so you don't have to listen to the entire thing. This means you will never hear the line about a girl being half bear and half cat. Tennessee also believes that America does not have any issues with obesity as evident by the fact that Neyland Stadium crams 100,000 fans into a 90,000 seat stadium. 
A Vanderbilt "Home Crowd"
Vanderbilt- Yes, Vanderbilt is in the SEC. If you have to make a trip to Vandy don't expect much. Don't expect game day atmosphere, don't expect great tailgating, don't expect great college bars, don't expect a sold out game, and don't expect SEC caliber talent on the field. The only thing you should expect is to walk out of Vanderbilt Stadium a winner. Also, get ready for the Foghorn. If you aren't ready you will be rushing to the bathroom soon after.
Matt Barber
Dixiefriedsports@gmail.com
http://twitter.com/#!/dixiefriedsport